After 40 years flying airplanes, Douglas Harding ('85, Geography) discovered his aspirations soared higher. He started saving lives.
As the founder and chief pilot of the Hope Flight Foundation, Harding transports children facing potentially deadly illnesses to specialized hospitals for treatment. His clients—low-income families located in rural areas—receive free flights from their nearest small airport to children's hospitals in cities like San Francisco or Los Angeles.
"I wanted to start using everything I'd learned to help people," he says. "I didn't know it would be kids specifically, but I started looking around for what I could do and found out that for kids who are seriously ill, the nearest children's hospital could be hundreds of miles away and they needed transportation to get treated. And I thought, 'I can do that.'"
Harding launched the Hayward, California-based Hope Flight in 2005 and has since expanded operations to include communities in Nevada and Oregon.
He works directly with staff at the children's hospitals to identify children in need of transport and to arrange every step of the process both to and from the hospital. That guarantee of a return trip home makes Hope Flight's services especially valuable as does Harding's willingness to arrange trips on as little as two days notice.
The hands-on approach extends to the pilot.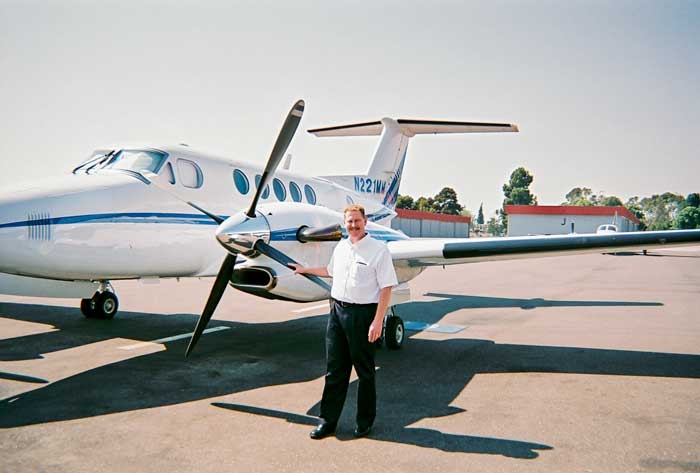 "I go on every flight," Harding says. He also relies on five volunteer co-pilots to ensure two pilots are on board each trip as well as on one of the organization's supporters for use of a plane, though Hope Flight is currently fundraising for a two-engine plane of its own.
Harding was already an experienced pilot when he enrolled at Humboldt State to study geography.
"I liked flying but I wanted something a little more well-rounded," he says. "I wanted to learn more about the earth, more about the layers—the soil, the vegetation, the people—something all-encompassing."
He says his time on campus encouraged him to be open-minded. "It taught me to be curious, to investigate the underlying structure of things."
After graduation, Harding worked out of Eureka, obtaining his commercial license and flight instructor certification. He moved to the Bay Area to teach for Korean Airlines and later flew corporate shuttles. He now assists at a local flight school while transporting children and raising funds to maintain and grow Hope Flight.
Harding notes that Hope Flight arose from a desire to do something more rewarding and meaningful than flying for money. The payoff comes in part from the personal relationships he develops with the children and their families. Most of the kids he flies require multiple appointments and, as a result, multiple plane trips. Grateful family members post updates on Hope Flight's Facebook page or check in with Harding to provide progress reports.
And, Harding is happy to share, the news is nearly always good.
"Almost every person we've flown is in remission or survived their transplant."
To learn more about Hope Flight and its mission to help seriously ill children, visit hopeflightfoundation.org.