College sports are more than fun and games. To Robin Smith ('78, Nursing), a former member of HSU's swim team, training, practicing, playing, and competing are good for the mind, body, and soul. 
"Having to balance athletics with academics teaches students how to stay organized and prioritize tasks. As the pandemic has shown, being active improves fitness and is important to mental health. Competing also teaches students how to communicate effectively and develops leadership skills," says Robin. 
To ensure current and future students continue benefiting from organized sports at HSU, Robin donated $200,000 to support athletics at HSU. Half of the funds established the Robin M. Smith Athletic Facilities Special Opportunities Fund, which are designated to upgrade facilities and buy new equipment for training, conditioning, and rehabilitation with priority given to HSU's athletic training center, the weight room/strength training area, and the Student Recreation Center. The other half established the Robin M. Smith Club Sports Special Opportunities Fund.
"I heard HSU students and student-athletes needed better facilities to train and workout. I knew I could make an immediate, visible impact," says Robin, who is also a board member of the HSU Foundation. "HSU also has a significant number of recreational club sports, which are student-run and great in their own way because of the flexibility. You can focus more on academics and still be able to participate in organized sports. There's the opportunity to travel and compete, and you have the option not to if you have a project or test." 
Today, HSU has 11 competitive NCAA Division II men's and women's sports teams, most of which compete in the California Collegiate Athletic Association. Robin's gifts have already made a difference. HSU purchased four new adjustable treatment tables, replacing the ones that were decades old.
"An important aspect of HSU's athletics program is providing support to maintain health and safety," says HSU Head Athletic Trainer Shannon Childs. "Thanks to Robin's generosity, we can update our aging equipment, which will help staff athletic trainers manage high-level injuries and rehabilitation for our student-athletes." 
HSU's 12 sports clubs—run by students and partially funded through the University and Associated Students funding—rely on fundraisers to pay for gear and travel. Thanks to Robin, clubs will now be eligible to receive $1,000 annually at the beginning of the Fall semester.

That financial assistance, which will be used to cover equipment, and support various club activities, is meaningful to Physics major Miguel Camarena. A senior from Los Angeles, Miguel joined the Ultimate Frisbee club his freshman year. Now president of the club for the last three, he stresses the important role club sports can play in the daily life of a student.

"Moving to Humboldt County from a county like Los Angeles was a culture shock. Club sports has helped me and plenty others on the team find a sense of belonging at HSU," says Miguel. "My favorite thing about being on the team is the friendships I have been able to build with teammates. I think everyone who participates in a club sport shares the same sentiment—that the people we meet through these sports are lifelong friends.
"Being able to find a close-knit group of people who share a mutual love of a sport has been instrumental in my decision to remain at HSU. For these reasons, I believe club sports are extremely important for HSU and should continue to be supported."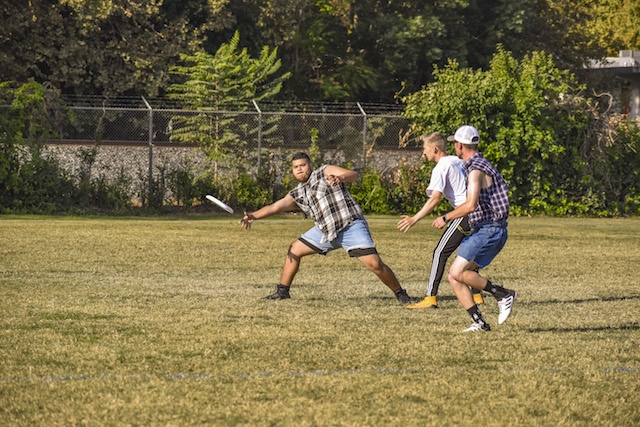 Robin's donation is rooted in her passion for wellness. After graduating from the Nursing program at HSU in 1978, Robin had a long and successful career as a nurse and clinical researcher. Now a swim coach, Robin created an endowment last year that provides annual scholarships to nursing students in HSU's RN-to-BSN Nursing program. 
"I have seen firsthand the importance and benefits of students being able to get in a workout and socialize with their friends. Their overall mood and mental state improved dramatically over a short period of time. And they started to make exercise one of their regular routines," says Robin.
"My hope is that these funds will remove some of the barriers to access and will allow more students to participate in regular exercise and competitive sports at HSU. I also think that it is important to provide updated and safe workout options for students when they need to take a break from studying and the stresses of life. Sometimes it is the little things that can make a big difference and bring about the most change."
Because of Robin's gift, students for years to come will have the chance to thrive at Humboldt State.
"Giving to HSU means supporting a university that develops the whole student. HSU is focused on both academics and extracurricular activities to assist students with finding their passion and becoming the best person they can be," says Robin. "As a student, I had the freedom to make mistakes and learn and grow from them. There's a special place in my heart for Humboldt." 
Learn more about how to support Intercollegiate Athletics & Campus Recreation at HSU. Go to giving.humboldt.edu or call 707.826.5200.

Photo 1: Robin Smith, who was a member and co-captain on the Women's Swimming and Diving Team as a student at HSU in the '70s, is giving back to the athletics program that gave her the communication and leadership skills she used throughout her successful career as nurse and clinical researcher.

Photo 2: Miguel Camarena (left), president of HSU's Ultimate Frisbee sports, found a sense of belonging and built connections at HSU through his team.